Kid's Pick ::: Books by James Mayhew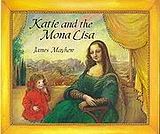 As I have been preparing for our homeschooling journey with my girls, I have done a little looking around for books that introduce them to art. And by art, I mean the works of some of the masters ... Leonardo da Vinci, Monet, Rembrant. I want them to appreciate art as something more than a cleverly craft Pixar image that comes across their screen and know that sometimes you might have to work a little harder to study the picture or to see what the artist is trying to get across.


With that, I stumbled across the books of
James Mayhew
. Mr. Mayhew's
series
about Katie is one that my girls love and is continually checked out of the library. Katie and her Grandma take trips to the museum to look at wonderful art. While there, Katie has delightful adventures as she climbs into the picture frames to meet the characters of the paintings. The photo above is of
Katie and the Mona Lisa
- Katie wonders why the Mona Lisa is smiling in her picture and then the two of the cause all sorts of chaos in the museum as they hop in and out of the different pictures. (Well, the Mona Lisa doesn't cause the chaos ... that's all Katie!) :)


At the back of each book, there are small paragraphs about the different artists and styles of painting used. I know these will come in handy down the road as we learn more about the artists and their works.


If you are looking for children's books to introduce artists, we recommend these! For more Kid's Picks, visit Five Minutes for Books.