Little Bits
Sitting outside with my girls this morning. The temp is hovering around 60* with a promise of 70* later today. The girls are hard at work bottling up sand in all the empty jars and bottles around the house. They have a plan, of sorts, and I'm just excited that we're all outside enjoying this weather.
Made these breakfast pizza muffins this morning. YUM. I ended up leaving out the green peppers because I have little girls that balk at green things in their food, and I may add them the next time anyway.
I uploaded my March menu plan on the computer today. Last month I had a beautifully planned February menu (for an especially busy month for our family) and about 10 days into the month I lost it. *insert gasp of horror here* So this month, I'm planning ahead with a backup copy online. I can relax now. (I don't know that my menu is anything brilliant, but you are welcome to download it). :)
I just finished a great book ... A Miracle for St. Cecilia. If you are a fan of the Mitford series or Miss Read it's totally worth checking out. Small town, small church, salt of the earth people. My kind of book. (And there is four more books in the series for me to explore = bliss.)
Callapidder Days is gearing up for the 2009 Spring Reading thing. I thoroughly enjoy this read-along every year and need to get to work on my list. I don't know that I've ever finished my list completely, but I love making lists and this reminds to be purposeful and spending a little time reading daily.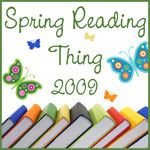 Have a wonderful Friday. :)
This post is linked up with the Company Girls Coffee Talk, too!