10 on the 10th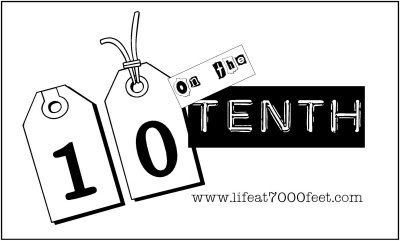 Mer is hosting her first 10 on the 10th today, and true to form, I can't figure out what to post ten of! You wouldn't think this would be so hard would you. :) Thinking, thinking...


A few weeks ago, I was telling my husband that I was shocked and slighly appalled that we were missing certain songs from our music library (we are iTunes folks all the way). Specifically, the lack of 80's music was glaring ... and as I am a child of the 80's there were certain songs that I felt that (over time) must be added or our children would be scarred for life because they had never heard them and they would miss that link with their mother's past. Okay, slight over-exaggeration, but still. :)
So, in no particular order, and most definitely probably forgetting something that will strike me as soon as I push the post button, ten songs that I LOVED in high school:
1.
You're the Inspiration
, Chicago
2.
Only in My Dreams
, Debbie Gibson
Oh, yes, I loved Debbie Gibson and so wanted to be her. :)

3.

Invisible Touch

, Genesis
4. Anything by Huey Lewis.
Power of Love
?
Hip to Be Square
? Huey was so cool.
5.
Soldier of Love
, Donny Osmond.
6.
How Will I Know?
, Whitney Houston.
Big voice, big hair, big song. I knew that one backwards and forwards.

7.
I'm Forever Your Girl
, Paula Abdul.

8.
Never Gonna Give You Up
, Rick Astley.

9.
Kyrie Eleison
, Mr. Mister.
10.
La Bamba
, Los Lobos.

I realize this song wasn't technically an 80's song, but it was rereleased then and I felt pretty cool being able to sing a whole song in Spanish. Go me.

:)
To link up your list of 10, visit
Mer's
! (Any songs that would have been on your list? And if you were only 3 in the 80's *coughlexiecough*, please don't make me feel old!) :)