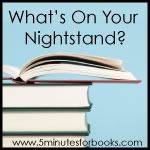 I love looking at the "nightstand" posts that bloggers put up once a month. Mine is not terribly impressive this month. Janaury (I'm now noticing) is usually a reading rut for me. It should be a great month for reading! I'm inside a lot because of the weather, I've usually got a stack of new books to read from Christmas and birthday ... however, invariably I find myself turning to books that I have read before. Maybe it's because of the letdown after the holidays and I need something familiar after the frenzy? Who knows. :)
Anyway. Here are a few of the books that I'm PUTTING on my nightstand to read in the next few weeks. We'll just have to see what happens.
And, two others that I have read before, but feel that I need to pull out for the good reminders that are in there...
If you are interested in posting your nightstand stack, head over to Five Minutes for Books. :)