Children's Classics ::: Katy No Pocket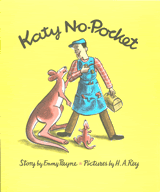 One of our favorite classics is the sweet story of
Katy No Pocket
, written by Emmy Payne. Katy is a mama kangaroo with a Very Big Problem. She doesn't have a pocket! How is she going to carry her baby Freddy? Katy and Freddy go on a quest to find out how other mothers carry their babies ... maybe then they can find a solution. Unfortunately, what works for other mothers doesn't work for Katy. She and Freddy head out of the jungle in search of answers and find themselves in the big city. With a little help from a kind man on the street, Katy is back up and running with pockets to spare!
My girls love this book. Some of the attraction, I believe, is because it is about kangaroos. In our house, kangaroos are just cool. :) They are different and not something that you normally see in our neck of the woods!
I was drawn to this story by the sweet pictures in the artwork. I was wonderfully pleased when I found out that the illustrations were done by
H.A. Rey
- the man behind
Curious George
! (George is also a big deal in our house. He is very curious, as my N1 would say). :) The pictures are simple and cartoonish, but provide lots of detail for small eyes. Something I learned about Mr. Rey's style of illustrating - he originally planned to illustrated the books that he and his wife Margret wrote with watercolors, but because of color separation in printing, they switched to the cartoonish style that has continued on in his books.
This story has gotten a workout with our girls and we all give it two thumbs up if you haven't met
Katy
yet!
For more children's classics or to post one of your own, head over to
Five Minutes for Books
!