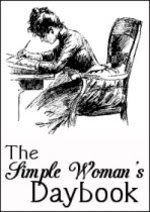 Do visit Peggy's to see all the other daybook posts this week!

FOR TODAY


Outside my Window ... cold, but light is creeping in. Hoping to open the windows and enjoy the sun this morning, even if it's too cold for us to get out in it.

I am thinking ... that I need to get myself organized for the week today. Lists need to be made as I have a fair amount of church that needs to work its way in around home and family.

I am thankful for ... the fact that I get to stay home with my girls. Last week, being our first week back into a normal rountine after holidays and travel, I really tried to stay home as much as possible and, boy, did it help get us back in shape around the house. Looking forward to another week of limited outings again.

In the learning room ... We are getting back in the swing of a little school every day with N1. Last week we got two days of table work in (our Explode the Code books and we started Teach Your Child to Read in 100 Easy Lessons). The girl is READY to read. I'm so excited. This week, I think we are going to loosely look at penguins. For the month of January, I have several weekly themes in mind, but truthfully have not done much to flesh them out because we seriously needed a breather after being so busy.

From the kitchen ... I'm back on the menu planning bandwagon after flying by the seat of my pants for a few weeks. This week will include chicken enchiladas w/ rice & beans & salad; crockpot fried chicken; some taco soup (one of my favorite cold weather comfort foods); and I think a breakfast night. Yum.

I am creating

... a Project 365 photo album. More on this...

I am going ... to do a ton of laundry today. And find the top of my desk. We moved some furniture around last night and it got buried. AND I'm going to make some time today to do some reading ... meaning, I'm not going to wait until after kids are in bed and we're winding down for the night. At that point, reading = dozing.

I am wearing

... jammies. I.e., a large t-shirt & yoga pants.

I am reading ... a couple rereads, hence the need to sit down today and make a reading plan. I got all sorts of new books for Christmas and birthday and they need me.

I am hoping

... for good things to happen in the lives of my friends. I have some dear, dear friends that are hurting and I hurt for them.

I am hearing ... the sound of my N2 getting to plan on the computer without N1 "helping" her. A rare treat. N1 & E are still sleeping as of yet, but I expect to hear from them shortly...

Around the house ... we've done quite a bit of furniture rearranging the last few weeks. Travis is working on a CD for our church worship team (insert giddy excitement here!) and his office is becoming a temporary recording studio. That said, some furniture had to come out to make room for other things and thus needed to find homes elsewhere in our tiny house for a few months. But the CD will make it all worth it. I'll have to see if I can share a sample of it later ... it's going to be very cool.

One of my favorite things ... my current breakfast addiction: vanilla yogurt with maple pecan granola.


A Few Plans For The Rest Of The Week ... My husband has several things on his plate this week, so in contrast I have very little. Balencing each other out. :) We have our normal activities: dance, Bible study, Awana; but otherwise, very little on the go-and-do-list. If it was warmer I would take the girls to the zoo, but I think I would freeze my little baby that has no fat on her body. So we wait for a warmer spell.

Here is a picture thought I am sharing with you ...


This is a picture from our hair cut day last week. I just thought it was super cute of N2 - she's a little unsure about all the hair cutting. :)
Happy Monday. :)