What's on Your Nightstand ::: February 24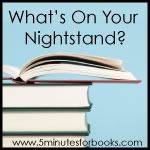 Last month
I posted that I was going to be reading the biography of H.A. & Margret Rey:
The Journey that Saved Curious George: The True Wartime Escape of Margret & H.A. Rey
by Louise Borden. I sat down with this book on Saturday and finished it in about an hour! This biography is written on a grade school student's level and tells the tale of how the Rey's escaped from a Paris occupied by the Germans on two bicycles, and how they eventually made their way to America. This book would be a great resource if you were wanting to expose your 2nd grader (and up) to World War II without delving into topics that they are not ready for. The book is full of illustrations and photos of Mr. Rey's journals - did you know that Curious George started out being called Fifi? I must say, I prefer George. :)
I also finished rereading
Living Simply
by
Joanne Heim
. I was reminded in a conversation with my best friend recently how deliberate we have to be if we want to live a simple life. This book is such a good reminder for me of those things that are priorities in my life. Not that I don't know they are priorities, but somethings the excitement of saying yes to more activities, more things, and more busy-ness makes me forget. Things like evening routines with my children to make their bedtimes a sweet time for them and me, family traditions that I want to start or continue (those things don't happen if I don't plan them), having simple friendships with girlfriends and making time for them. If you are looking for encouragement to slow down, I highly recommend this book.
Up for my March reading? Hmmm. I'm not sure! :) I am dying to read the
third book
in the Inkheart series, but the wait list at my library is forever long. I still have
Sabbath Keeping
by Lynne Baab to read, and several fiction options on my shelf. We'll see!
For more nightstand posts, head over to
5 Minutes for Books
. :)