Read Aloud Thursday and Other Bookish Matters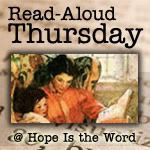 First off, happy anniversary to Read Aloud Thursday (and Amy!) : ) I love participating and reading Amy's posts (and others as I can find the time!) and find this a fount of inspiration for books for my munchkins. Here's hoping to many more years of RAT posts to come. : )
This is a hurried Read Aloud Thrusday post today - school took longer than expected. (I think Mama had too many irons in the fire today, truthfully). However, I will share some photos of two Christmas books that were new to us this year and that we loved.
The first was The Little Fir Tree by Margaret Wise Brown. (Yes, the Goodnight Moon one). And illustrated by Barbara Cooney. (Yes, the Miss Rumphius one.) With those two favorites at the helm how could it not be a winner. Sadly, the version of this story with the author/illustrator combination of Brown and Cooney looks to be out of print, so if you spot it somewhere, snatch it up! This edition's illustrations are far sweeter to me than the reprint.
This is the story of a little tree that is transplanted from his home in the forest every Christmas to the bedroom of a little boy that is lame. The father tenderly gathers the roots and takes the tree to the boy so that he can enjoy a real tree at Christmas. The father then replants the tree and lets it grow until the next Christmas.
Sweet, sweet story.
The second book I'll share is one by author Kate DiCamillo. I didn't realize that she had a picture book and when I saw it was a Christmas one, I snatched it up at my library as well. It also looks to be out of print right now, unless you can read Japanese. : )
Great Joy is about a little girl who sees the organ grinder and his monkey out her window every day. When she asks her mother where the organ grinder goes at night, her mother dismisses the question as something that she doesn't need to worry about. However, worry the little girl does, especially after seeing him outside late at night and realizing that he doesn't have anywhere to go and how cold he and his monkey must be.
This story has a wonderful resolution to it through the kindness of a child. Another great one to hunt for at your library.
And, in other bookish news. : )
Carrie over at Reading to Know is hosting a book club in 2012! I'm excited about this because (1) I like Carrie, and (2) I like books. : ) Click the little graphic for more info from Carrie's blog, and ... a-hem ... I'll be hosting June so I hope you will join in if you are so inclined! (I've posted the full list of titles at the end of this post if you are interested in that as well).
And, with that, I have to get moving. We are hosting a girl scout cookie decorating event here tonight (eek!) and I need to get a few more things done while the baby finishes his afternoon nap and the girls freeze play outside for the last few remaining minutes of daylight. Happy Thursday!
January
- Beyond Opinion
, by Ravi Zacharias. Selected by Sky.
February

- Running Away to Home
, by Jennifer Wilson. Selected by *Carrie* at With All That I've Been Given.
March

- The Pilgrim's Progress
, by John Bunyan. Selected by Shonya at Learning How Much I Don't Know.
April

- Any title by P.G. Wodehouse of your choosing (selected by Tim at Diary of an Autodidact) Just choose one. Especially if you've never read Wodehouse before. (Happy to make suggestions if you need some.)
May

- The Adventures of Tom Sawyer
, by Mark Twain. Selected by Amy at Hope is in the Word.
June

- A Girl of the Limberlost
, by Gene Stratton Porter. Selected by Stephanie at Simple Things.
July

- Any book in the Chronicles of Narnia series (as part of the Chronicles of Narnia Reading Challenge hosted annually here at Reading to Know, hosted by myself) (Again, just choose one. And make the most of it!)
August

- The Girl Who Circumnavigated Fairyland in a Ship of Her Own Making,
by Catherynne M. Valente. Selected by Bluerose at Bluerose's Heart.
September

- Professionalizing Motherhood
, by Jill Savage. Selected by Stephanie at Stephanie's Mommy Brain.
October

- Uncle Tom's Cabin
, by Harriet Beecher Stowe. Selected by Barbara H. at Stray Thoughts.
November

- Jewel of Persia
, by Roseanna White. Selected by Annette at Live, Learn, Love.
December

- A Christmas Carol,
by Charles Dickens. Selected by Carrie