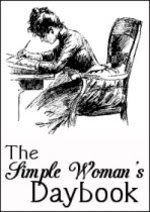 Do visit
Peggy's
to see all the other daybook posts this week!
FOR TODAY

Outside my Window
... we just came inside from enjoying some UNBELIEVABLE Tennessee weather for August. It's 83° with no humidity. Perfectly lovely.
I am thinking
... that although life is busy, I love my life and am very blessed. :)
I am thankful for
... bedtimes - mine and my girls'. :)
From the kitchen
... crockpot Mexican lasagna is ready to serve, along with a salad and some watermelon. I'm hungry!
I am creating
... a less cluttered home. :) We went through toys today and have a huge box that we cleaned out.
I am going
... no where today. Monday is home and laundry day and that's just what we (along with the aforementioned toy purging).
I am wearing
... pink knit pants and a white t-shirt.
I am reading
...
No Other Gods
by Kelly Minter, still plugging away (on week 5 now). And, I'm rereading
A New Song
by Jan Karon. Also picked up T
he Creative Family
by Amanda Soule. Inspiring. Wonderful. And I'm only about 1/3 of the way through.
I am hoping
... to make some headway on a few church projects this week. I just need to jump in and start working.
I am hearing
... the squealing of my girls because Daddy! is! home!
Around the house
... need to do a final pick-up for the day and get jammies on the munchkins. But, with a box load of toys gone - it looks good!
One of my favorite things
... the Olympics. I don't really follow sports, but I am loving watching a little Olympics in the evenings.
A Few Plans For The Rest Of The Week
... tomorrow is errand day for us (pick up paper for church and maybe take the girls for a run in the splash fountains at the
Bicentennial Mall
). Otherwise, other than maybe a mid-week library and grocery run, we don't need to get out much this week! So our plans? Home, enjoying this beautiful weather, Olympics, reading, etc.
Here is a picture thought I am sharing with you...