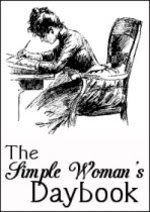 Do visit
Peggy's
to see all the other daybook posts this week!
FOR TODAY

Outside my Window
... just a hot Tennessee afternoon.
I am thinking
... that this weekend was very, very fun. Lots of relaxing, talking, hanging out.
I am thankful for
... how well potty-training is going with N2. We went and only bought diapers for one little girl this weekend!
From the kitchen
... dinner tonight is upside down pizza. I'm also thinking about making a batch of
chex mix in the crockpot
for the munchkins (and me!) to snack on this week).
I am creating
... goodies bags for a birthday we will be celebrating a few weeks (early October, actually). But I had an idea that I wanted to try out so I'm going to get started on those this week hopefully. :)
I am going
... grocery shopping (well, this morning I did). Now we are in for the day! Hopefully the next stop out will be E's 15 months appointment on Wednesday.
I am wearing
... knee-length denim skirt and pink t-shirt.
I am reading
...
No Other Gods
by Kelly Minter, still plugging away. And, I'm rereading a Mitford book right now. I needed something familiar.
I am hoping
... a friend is on the road to recovery.
I am hearing
... silence. It is rest time.
Around the house
... laundry and more laundry today! Must clean out the girls' overnight bags and put everything away from the weekend.
One of my favorite things
... iced tea. Yum. The official summertime drink.
A Few Plans For The Rest Of The Week
... we are starting our weekly "unit" on China this week. (I was going to do a combined Olympics/China week, but decided to spread it out over two weeks so this is the China part). We have a dr. appointment for E on Wednesday (15 month check-up), but other than that, no big plans out of the house. I'm looking forward to the opening ceremonies of the Olympics on Friday night and we are going to eat a special Chinese dinner here at the house while we watch. Well, I'm optimistic that we will have a Chinese dinner. It could be that some of us eat Chinese and
N1
some of us have chicken nuggets. :)
Here is a picture thought I am sharing with you...
I can't remember if I've shared this, but if so, I still love it. :)