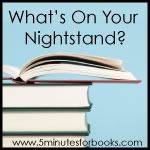 This month I stumbled upon a WONDERFUL treasure in the children's department of our local library ...
Before Green Gables
by Budge Wilson. I grew up with Anne as I know so many did. She was a kindred spirit of mine as soon as understood what the term meant and my books have been read ... and read ... and reread ... and I am thoroughly looking forward to presenting my 10-year-old niece with her own set of the books in the near future.
This book tells the story from the beginning. It starts at the marriage of Walter & Bertha Shirley (Anne's parents) and concludes as Anne is arriving at the station house at Bright River ready to step into the lives of Matthew and Marilla Cuthbert. You meet Mrs. Thomas who took her from the first after her parents' deaths and also Mrs. Hammond (who had twins three times in succession!)
I enjoyed this book. I did have to remind myself that it was NOT written by L.M. Montgomery. It is missing that spark that is in an L.M. Montgomery book that makes it magical, whether you are reading about Anne,
Jane of Lantern Hill
, the
Story Girl
, or
Emily of New Moon
. That said, I think Ms. Wilson did a good job capturing the flavor of Anne's personality and spirit, so that makes the book very believable and enjoyable for me. If you are a kindred spirit of Anne Shirley and have not stumbled upon this book, I would encourage you to add it to your nightstand. I know I'll be looking to add my own copy to my home library shelves soon.
To find out what is on other nightstands around the blogworld, head on over to
Five Minutes for Books
!