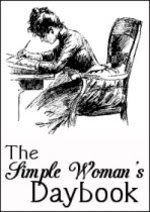 Do visit
Peggy's
to see all the other daybook posts this week!
FOR TODAY

Outside my Window
... steamy warm weather. Rain is in the forecast and I wouldn't be upset for a reason to hunker down inside with books and munchkins.
I am thinking
... that I have an enormous amount of printing this week to do for church.
I am thankful for
... the fact that my children all finally sleep through the night, consistently! This has been a loooong road, and there are exceptions, but I am getting at least 7 hours every night in a row for the first time in several years. It is good.
From the kitchen
... lunch was grilled cheese, applesauce and a few chips. Dinner tonight will be potato soup, I think.
I am creating
... lots of little forms / postcards / handouts for church. With everything kicking off for the Fall in the next two weeks, it's been busy.
I am going
... no where today. :)
I am wearing
... baby blue knit (athletic-y) pants and a white t-shirt. My mommy-uniform when I am going to be doing lots of cleaning and laundry.
I am reading
...
The Bride Bargain
,
The Willoughbys
, and rereading Elizabeth Foss'
Education in the Heart of My Home
.
I am hoping
... my friends
Lauren
and Christina have their babies very soon!
I am hearing
... the washing machine and dryer running.
Around the house
... major purging in the girls' room in the last week. My 2yo and 15mo have entirely toooooo many clothes. I will say - I do think that having several extra dresses in 2T/3T are very handy when potty-training. We do lots of dresses these days for N2 because she can manuever in the bathroom easier than with shorts or pants on. However, and don't think that I am not EXTREMELY thankful, we get LOTS of hand-me-downs, and I need to be more ruthless on just keeping what we
need
and not everything. Their room and clothes are already looking so much more manageable and cleaned out and I have a huge pile of wonderful little girl clothes to take to Goodwill.
One of my favorite things
... Mondays. Fresh week. Fresh plans. Fresh goals. And lots of clean laundry.
A Few Plans For The Rest Of The Week
... Tomorrow is N1's first dance class of this year and she is EXCITED!!!! She is taking the 4/5yo ballet/jazz/tap class and is giddy with the thought of making loud noises on the floor with her new tap shoes. They are very loud. That is all I will say about that. We are also grabbing a quick bite on Wednesday night with some friends that are flying through town as they move to a new city and job. Thankful that they are coming this way. Those are the big weekly events - the family has been invited to a lakeside birthday party on Saturday; Travis and I also get to go out to dinner on Saturday sans munchkins. There are several couples in our church that all have August anniversaries so my sister organized a night for us all to go out to eat and celebrate our anniversaries together.
Here is a picture thought I am sharing with you...
My Mom (Grandma) with 4 of the 5 grandkids. E spent the afternoon with Grandpa while we all went and saw the Backyardigans Live show on Saturday!!