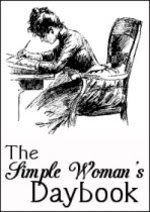 Do visit
Peggy's
to see all the other daybook posts this week!


FOR TODAY
Outside my Window ... it's dark now. And cold. 

I am thinking ... that I may have waited a little late in the day to start this!

I am thankful for ... home. A good time was had by all whilst on our Thanksgiving jaunt, but there truly is no place like home.

In the learning room ... this week it's all about the North Pole and along with that we will be reading The Polar Express. (I know I owe a post about some of the Christmas books that we checked out and I will hopefully get that up later this week). 

From the kitchen ... nothing to exciting! I need to make a menu for December and put together a grocery list ... and figure out a few special treats to make for the next few weeks. One thing in particular - what to make for the teachers in my girls' lives (Sunday School, ballet, etc.) Do you have a standard teacher gift or try to come up with something new each year?

I am creating
... my Christmas journal. Day one is done!
I am going ... to bed shortly. :)

I am wearing
... blue jeans and a pink t-shirt. But not for long - it's time for pjs!
I am reading ... A Christmas Carol. Really.

I am hoping
... for a simple Christmas season this year. 
I am hearing ... the sound of Monk in the background. Travis is watching and I'm soon to join him. :)

Around the house ... a little straightening needs to be done tomorrow. A few too many toys did not get put away before bedtime.

One of my favorite things ... salads. Big salads. Yummy salads for dinner. Guess what we had tonight? :)

A Few Plans For The Rest Of The Week ... regular activities include dance & Awana for the big girl. Friday night is our church's Women's Christmas Party which I'm planning on going to - the girls (unbeknownst to them) will be having a pizza and Polar Express party with Daddy. :) 

Here is a picture thought I am sharing with you ...
Seriously. Sometimes God's creativity just astounds and overwhelms me.