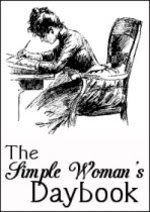 Do visit
Peggy's
to see all the other daybook posts this week!


FOR TODAY
Outside my Window ... very wet outside right now. It's in the mid-50's so it's back to fall-ish weather around here.

I am thinking ... that I have much to think one. Some plans for the upcoming weeks and some reflection on the last couple.

I am thankful for ... how well my big girls did in the Christmas program (and how wonderful the program was in general. Re: the girls - this is the first year that our munchkins distinguished themselves by NOT crying while on stage which I was so thankful for.

In the learning room ...  not much this week that is structured. :) We're going to read lots of Christmas books and just have fun together.

From the kitchen ... most of my Christmas baking (that was planned) is done and after that, we don't need anymore. :) Meals this week include using up leftover roast from Saturday, a roast chicken some other night this week, and a breakfast casserole. I also have leftover Mexican soup in the fridge that I am looking forward to this week. These cold rainy days are great soup weather.

I am creating
... my Christmas journal. Still. :) 
I am going ... to the library today. In the rain. 

I am wearing
... jammies. But only until I finish typing this. Then it clothes and time for the library.
I am reading ... a review book and getting ready to start working through Isaiah. Um, yes, I'm a little intimidated by that book!

I am hoping
... for a white Christmas for my munchkins. :)
I am hearing ... little girls playing together. Happy sounds.

Around the house ... straightening needs to be done. A weekend of lots of go-go-going has left us with some disarray in our living space. Not to mentioned, it looks like we are going to host a get-together with some friends right after the first of the year and now, of course, I'm seeing purging that must be done. Always good to have a goal to work towards.

One of my favorite things ... Christmas mail. Cards that are slowing trickling in. Getting my own in the mail this week, eventually. :)

A Few Plans For The Rest Of The Week ... This week looks to be very low key, for which I am so thankful. We have nothing on the calendar, unbelievably. All our 

Here is a picture thought I am sharing with you ...