Truth in the Tinsel // Review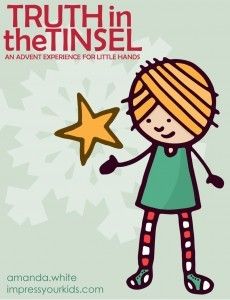 I was recently given the opportunity to review a new Advent resource from Amanda at
Impress Your Kids
called
Truth in the Tinsel.
. The subtitle of the book is called "An Advent Experience for Little Hands" and that pretty much describes this book in a nutshell. This resource ties the story of Jesus' birth to a different craft for each day giving a child a tangible object to create that ties directly to the scriptures read. With three little girls that love some craft time around here, I think this will be a hit. The projects that she has put together are simple and use common craft supplies, i.e., pipe cleaners, popsicle sticks, watercolor paints, etc., that you might have on hand or can (fairly cheaply) pick up at most stores. Included in the book are also some small flashcards you can print out to use as clues. Each day, your child can read that day's clue and then listen to see how that ties in to the scripture reading.
This is something that I could easily see me rolling into our circle time in the morning during the month of December. We probably won't hit it every day, but that's okay! At the back of
Truth in the Tinsel.
, she has some suggestions if you can't fit this in every day. You could hit just the basic parts of the Advent narrative and those crafts that go with it. Or you could read just that days that introduce your children to the different characters from the nativity story ... I'm leaning towards this one, especially for B this year. At four, she is at just the right age to really start to get (and remember!) the Christmas story. Taking the time to do some of these crafts this year will, I hope, tuck away the truths that God sent his Son for us so many years ago and that baby is now in heaven waiting for us!
If you think that this is something that would make a great fit for your little ones this Christmas, you can go to the
Truth in the Tinsel
webpage and purchase a copy. The e-book is normally $4.99 ... on Black Friday, you can pick it up for $2.99! You can also "like" the
Truth in the Tinsel facebook page
where there will be links and ideas shared related to the book.
Thanks, Amanda, for giving me the opportunity to preview
Truth in the Tinsel
!
Disclosure: I received a copy of this e-book in return for an honest review here on my blog. : )