For Sale...
One boy Husky dog. Very bad. Chews things. I will pay for shipping. *sigh*
Sam has been on a tear around here since Travis left. Sunday night, I'm getting cozy in bed and I hear the sound of fabric ripping. Not good. Get up to see that my neice had left her
new
purse here and Sam had eaten off the corner of it. I called my sister first thing Monday morning to explain what happened and asked her if she wanted to break the news to Jordan or if she wanted me to. Kathy said that she would talk to her and call me back. About 10:30 I get a call from a very teary six year old who is sad that her new purse was eaten. She ended the coversation with, "It's okay. I luuuuve you." *Insert knife into chest and twist* Needless to say, I felt like mud. Noelle and I went to two Target's yesterday trying to replace it with no luck so we bought her a different one and will give to her tomorrow.
This morning I woke up to find that of the three bills I had laid on the kitchen counter last night to mail today, there was only one. Hmmmm. Small scraps of paper littered the floor, so my only conclusion is that Sam was at it again. Before someone might accuse me of laying the blame on just Sam and not suspecting Jenny at all, Jenny
really
is the good dog. She has her behavior issues, too. She's our jumper/Houdini artist. If she wants out, she can get out. Thankfully, that doesn't happen often at all, and is usually just her getting out of the kitchen.
Anyway, Sam is, of course, lying on the floor now sleeping with his bone and being precious. I can't give him away. I take back the offer. :-)
Response to Comments:
Crystal
, the Bible was open to Romans 5. That is the passage that we had been discussing with the youth on Sunday morning. I opened the Bible to that passage because I have still been meditating on something I learned. In v. 2, the verse says that, "
we have obtained our introduction by faith into this grace in which we stand. . .
" The word "introduction" can also be translated "access." My husband asked us all what the word access means to me. The first thing that pops into my head was a backstage pass - all access - meet the musician, sit down with them, talk to them, go behind the stage, etc. That's the kind of relationship I can have with God because of my faith in Him. So often, I limit myself to just being out in the audience observing God. But because of my salvation, through faith, I have complete access to the Father. I'm not an observer - I'm on stage participating with Him. I loved that picture. :-)
Bev
, it
is
a great Bible. I've been thoroughly enjoying it with our Precept studies. I'm glad Zach is liking his. :-)
Dana
, I called sluggish first. :-) You'll have to think of something else.
Today's picture selections are courtesy of
Michelle
. She asked to see a photo of me (surely yesterday's were enough?!), my kitchen, and my favorite place to be. I'm having a hard time determining my favorite place to be, but here goes...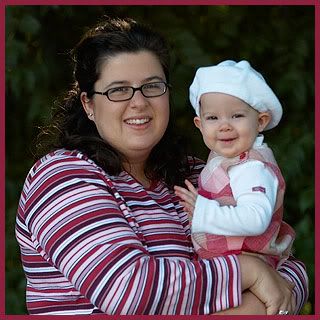 This is a recent favorite of my and my girl. :-)
This is my kitchen . . . small and slightly oldfashioned. :-) The writing on the cabinets are verses I have posted up to look at whilst I cook. Also, note the Diet Coke on the counter. That's how you can tell it's my house! We have our kitchen table in a little room off of the kitchen - there's no room otherwise. The washer and dryer are also in the kitchen.
And, for my favorite place, I chose what we call our "big room." The previous owners of this house built an additional 20x20 room at the back of the house and it's where we live as you will see in the pictures below:
In this picture, the brown box-y looking thing is our gas stove - fabulous when it gets cold. You can heat the entire house with it. In the corner is our miniscule TV. One thing I love about this room is that none of the furniture is directly turned towards the TV, meaning that it isn't the focus in the room. :-) The chair between the stove and TV is my
special
chair and will share more about it in another post... (I know ya'll can't wait). Then you see our couch...
Continuing on from the couch, draped with the pink afghan my Mom made me when I went to college, you will see my scrapbook/craft bookcase and my scrapbook desk. Where I make cards, work on scrapbooks and do other crafty things. :-) It needs massive straightening! Next is our loveseat . . . The little window there is a "pass-through" from the kitchen. Also to note, the big table in the middle of the room was my parents' coffee table. It's the table that I learned to walk around, my sister, and now my baby. My folks were going to get rid of it - they just didn't have room for it in their condo - and my sister and I were appalled that they were going to throw it out. We
love
this table. Many fond memories of it covered with the pieces of a 2000 piece puzzle, or eating at it while watching a family movie, etc. Probably one of my favorite pieces of furniture - ever.
Here we have the dogs' kennel (yes, they both fit in there all curled up). Over it is our wall of family pictures. The doorway takes you into our dining area. Then we have two books shelves that contain my paper cutter and paper/office supplies for my church job, miscillaneous school supply stuff, Bible reference books, and completed Bible studies that I have done so that I can dig into the when I need to look something up. Next is Noelle's pack-n-play/changing table. She doesn't spend much time in her PnP anymore - usually just when I am going to jump in the shower.
And, lastly, between the pack-n-play and the desk are Travis' small bookshelves that contain computer books/reference stuff and his study books for Romans and Job, and which our ink jet printer sits on top of. Then there is the computer desk. Behind the big blue lazyboy chair are our other printers - one which is a small copier and the other is our HUGE color printer for church. The door leads to the back yard and deck.
And there you have it - my favorite place to be. There's still time to get in your request for 3 photos! :-) Off to be productive!