Friday Felicities - 10.26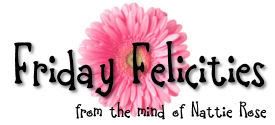 Things that make you happy. From the mind of Nattie Rose.
~ home-all-day days
~ homemade refried beans
~ dinner plans for tomorrow night - my every-other-month girls' night out dinner but with spouses!
~
footie pajamas
~ peppermint candles
For more Felicities, visit our host
Becky
!