With Much Thanks!
Okay, so this post is soooooo overdue. My IRL friend Lauren over at
a wandering heart's musings
sweetly awarded me with this
fun award
:
Thank you, Lauren! I don't feel very rockin' most of the time, but since this is my first ever award, I'd like to thank
the Academy
all of you who come and visit and leave sweet comments. I appreciate you all. : )
Then, just last week, Dawn at
PlaidHearts
awarded me this lovely thing of beauty: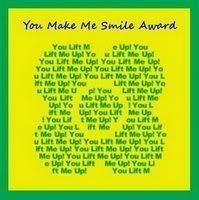 Thank you Dawn! : ) I just want to say that Dawn makes me smile as well ... and if you've never read her blog it's worth a visit. A homeschooling mom of 5 that is in love with her family and husband. (And her littlest is just about the same age as our Natalie (20 months) so it's fun to compare notes occasionally!) : )
And, just an aside, both of these wonderful woman are members of
Women at Home
with me ... a great community of ladies that is worth a stop if you have never checked us out!