Friday Felicities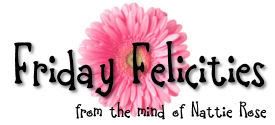 Things that make you happy. From the mind of Nattie Rose.
~ being able to see the top of my desk! : )
~
Monk
(we're in the middle of season 3 via Netflix)
~ cooler weather
~
crafty fun
!
~ a fall festival next weekend
~ Sara Groves'
He's Always Been Faithful
For more Friday Felicities, head over to
Becky's
(thanks for hosting this!) and share what makes you happy this week!