31 Days of Reading with Your Children // Day 17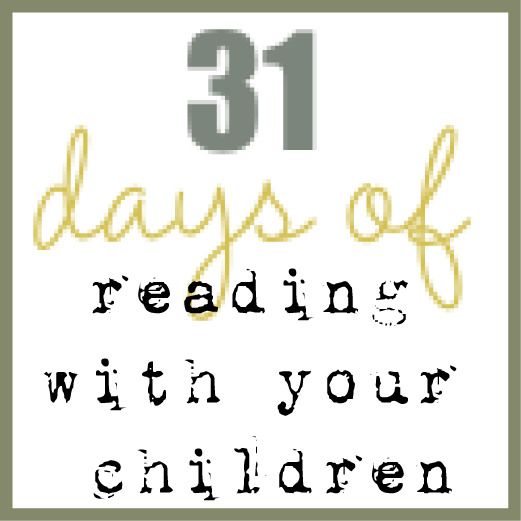 Today I'm going to share one of those books that is a MUST READ if you have girls. Must, must, MUST! :)
Betsy-Tacy.
Many, many years ago a good friend told me about the Betsy-Tacy books. Two little girls who are best friends and share many adventures and imaginings together. When we first picked up a copy to read aloud together, my oldest was five (just like the main characters ... what a coincidence!) and we jumped right into book one, Betsy-Tacy. My girls and I ADORED these stories - how Betsy and Tacy met, their first day of school (and how shy Tacy was), and many other adventures as they play in their neighborhood.
I've now read the first three books in the series with my girls: Betsy-Tacy, Betsy-Tacy & Tib, Betsy and Tacy Go Over the Big Hill, out of the eight books in the series in all. The books seems to naturally divide into two groups. The first half which contains the three books I just mentioned, plus, Betsy and Tacy Go Downtown. These four I think are suitable for any age girl. The second half of the series take place when Betsy is in high school and, I think, are best suited to a bit older girl. Not because there is anything improper in them at all, but because my eight year old just isn't going to understand some of dynamics between the characters because of her age. I have loaned Heavens to Betsy, Betsy in Spite of Herself, Betsy Was a Junior, Betsy and Joe, Betsy and the Great World, and Betsy's Wedding to a fourth grade friend of ours without hesitation and she loved them. To clarify, my eight year old could probably read them fine, but there is a little bit too much (though again, not at all improper) boy-girl talk in the books for her. : ) By the time I finished the series, Betsy was as much of a friend of mine as Anne Shirley and Laura Ingalls were when I read them as girls. I so wish I had read these books as a child and could have had the delight of reading them over and over again growing up! (Not that I won't be rereading them, but there are few other things that compete for my time right now). : )
There are also three companion books to the Betsy-Tacy series, where the author, Maud Hart Lovelace, gives us a further peek into the lives of some of the girls' close friends. Winona's Pony Cart is one that would suit younger girls like the first four BT books, while Carney's House Party and Emily of Deep Valley again would fall in the second group of books. (I'll go ahead and tell you that Emily is my favorite. : ) Amy of Hope is the Word wrote a great review of it here and I'll point you there because I can't say it better than she did.)
As you read these books, you can definately tell that they were set in a different time period. In the first books, the girls (five years old!) are allowed to wander their neighborhood with no fear, climbing hills and exploring trees. Not the uber-protective society that our children are, dare I say, constrained by today. I will also share with you that in one of the chapters the little girls deal with the death of Tacy's baby sister. These books were written at a time when a child's death was not uncommon if they caught the flu or the measles. This was handled extremely tastefully - of course, a mama knows whether or not their child can handle reading this, but my girls did fine with it and it allowed for some appropriate age-level discussions about death and what happens.
If you are looking for a beginning chapter book, especially if you have little girls, we highly recommend Betsy-Tacy.
Day: 1 // 2 // 3 // 4 // 5 // 6 // 7 // 8 // 9 // 10 // 11 // 12 // 13 // 14 // 15 // 16
The book links and pictures above are Amazon affiliate links ... if you click them and make a purchase, I will earn a few pennies towards books for my munchkins. Just thought I'd mention it. :)