31 Days of Reading with Your Children // Day 24 and a Guest Post!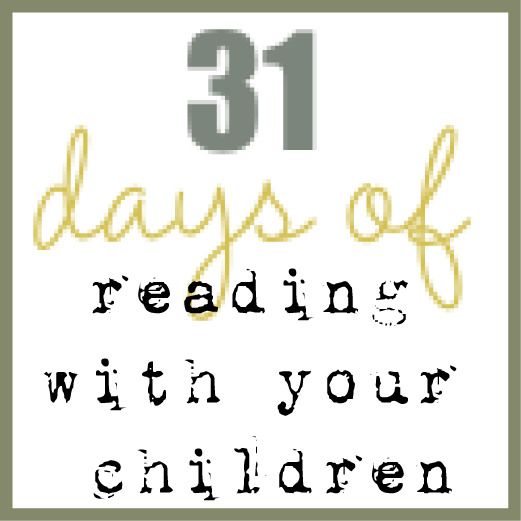 I am so very excited to share a post from Amy over at Hope is the Word today. She is host of Read Aloud Thursday, a homeschooling mama, and a woman I am privileged to call friend. We have traded emails for several years now and I am so thankful for this like-minded friend that I can bounce ideas off of (or brainstorm how we are going to keep these little boys we each have busy while we do school!)
Much thanks, Amy, for taking the time to write this post and sharing what reading aloud with your children has done for your family!
"You didn't tinker with the timer like Winona did the clock during your piano practice, did you?" I joked with one of my daughters. She immediately recognized my literary reference because we had read of Winona Root's

creative

use of her time during a recent read-aloud session. We all loved

Winona's Pony Cart

and eagerly looked forward to our daily read-aloud session after lunch. My daughter gave me a grin and said that no, she hadn't done anything to shorten her piano practice time.
This is only one example of the countless literary experiences that my girls and I have shared over the past, well, all of their lives. These literary experiences create a family intellectual culture that I don't think can be created in any other way. We have mourned Wilbur's loss of Charlotte

together

; we have given a wistful backward glance toward Narnia with the Pevensie children as they are whisked back to war-time London; we have traversed the world with Hitty as she experiences each of her new homes; we have laughed in amazement at Mrs. Piggle-Wiggle's fail-proof solutions for the most common of problematic childhood behaviors. Even months or years after reading a certain story, we can make reference to that story and immediately a bridge is built between us--the simple knowledge that we have experienced a great story together makes our relationship richer.
I began reading aloud to my girls as soon as they were old enough to focus on a page, maybe even before that. As they've grown, our reading repertoire has grown. Nowadays you might find us reading almost anything--the Bible; poetry, any kind from haikus to sonnets and what's in between; brand new picture books; Newbery-award winning children's novels; classics; informational books to supplement our science and history lessons; the newspaper; the list could go on and on. One day last week I even read them a Thanksgiving essay by Rick Bragg from the last page of my latest issue of

Southern Living

magazine! (I was chuckling and smiling over it, so they asked, and why not? Did they understand the sarcasm in the article? Probably not, but Rick Bragg is a wordsmith

par excellence

, and in this case the shared experience was just as important as total comprehension.) I can't think of anything that has shaped our family life more than reading together has.
All of the links
above are back to my blog, Hope Is the Word, and my reviews of the books I've mentioned here. Almost three years ago now, I started a little weekly meme I call Read Aloud Thursday. It's an opportunity for bloggers to share their posts about their families' read-alouds. It's pretty simple; you can read the minimal guidelines here. My friendships with some of my best bloggy friends (including Stephanie!) have grown up over the discussion of great children's books, and I'm always interested in adding to my collection of friends and books! Consider yourself invited to join in!
If you're lost as to where to begin in this read-aloud endeavor, obviously Stephanie's fantastic series this month is a great place to start. After she has inspired you, here are a few places from my blog to go for further inspiration:
This year's incomplete list is on the sidebar of my blog.
I look forward to meeting some of you some Read Aloud Thursday! Happy reading!
Day: 1 // 2 // 3 // 4 // 5 // 6 // 7 // 8 // 9 // 10 // 11 // 12 // 13 // 14 // 15 // 16 // 17 // 18 // 19 // 20 // 21 // 22 // 23