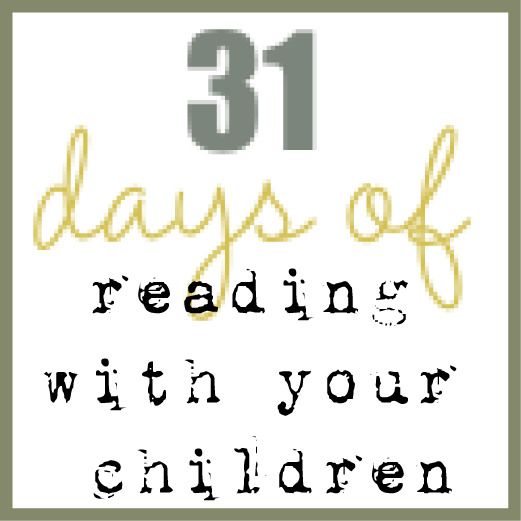 Today I'm linking up with my friend Amy's weekly blog feature, Read Aloud Thursday. I get tons of books ideas from Amy and her girls, especially in the area of our social studies reading. In our homeschool this year, we are reading through Story of the World, Volume 1 which covers ancient civilizations. How fortunate for me that Amy went through this book with her daughters last year which means her blog is a wonderful place for me to visit and search for suggestions for the different book chapters. Case in point, today she is blogging about books from China as they read through Story of the World, Volume 2. Well worth your time to pop over there. (And, just to tease, Amy has agreed to do a guest post on reading aloud with your children as it is a passion of hers as well and that will be coming towards the end of my 31 day series). Yay!
As for my contribution to Read Aloud Thursday this week (and today's read aloud post), I thought I would share four of the books that we read this week as we took our first steps in learning about India. Reading aloud with your children is a great way to introduce them to another culture and we chose to read several folk tales from India to get our feet wet.
Once A Mouse is the story of a man who is sitting alone contemplating big and little. Along comes a little mouse who is being pursued by something bigger than him. The man, who also happens to have magical powers, makes the mouse bigger. This happens multiple times until the mouse is a beautiful majestic tiger! Well, once the mouse becomes a tiger he is very preoccupied with our beautiful he is and the man changes him back to a mouse lest he become to vain.
One Grain of Rice is a mathematical folktale that my girls LOVED. The story of a selfish king and a wise girl. The girl does a noble deed and when asked what her reward should be, she asks for one grain of rice. The king says that is not enough of a reward and she must pick something more. The girl revises her wish to one grain of rice the first day, and then that amount is to be doubled each day for thirty days. Of course, by the end of the thirty days, she is given some astronomical number of pieces of rice (well into the millions) and the king is left with none. She then teaches the king a lesson in generosity by giving the rice to the people and some to the king. Again, we loved this story and laughed at how the amount of rice grew and grew!
The Little Brown Jay was another folktale that we read. The story of a beautiful princess with an ugly voice. Thanks to the sacrifice of a little brown jay, she trades voices with the bird and is able to sing most wonderfully. The little brown jay, happy that he could help the princess, is himself gifted with beautiful feathers of blue in return.
Last, but certainly not least in our household, is The Story of Little Babaji. (I originally blogged this book a couple of years ago here.)This is a book that my children checked out of the library, each one in turn, until I finally gave in and bought the book one year for Christmas. You might be more familiar with this story as Little Black Sambo of Africa. Either way, this is the story of Babaji who is, unfortunately, pursued by some hungry tigers! He escapes them by giving them his clothes and then is able to regain them when the tigers get into a fight. The story is fairly repetitive, which is fine for my girls - they have now heard me read it so much that they each have parts to play as I narrate the story. One of our favorites.
(You can find more India read-alouds that I've reviewed on the blog here as well.)
If you are looking for more great read-aloud suggestions, I highly recommend heading over to Amy's and consider taking part in Read Aloud Thursday!
Day: 1 // 2 // 3 // 4 // 5 // 6 // 7 // 8 // 9 // 10 // 11 // 12

The book links and pictures above are Amazon affiliate links ... if you click them and make a purchase, I will earn a few pennies towards books for my munchkins. Just thought I'd mention it. :)