Pretzel by H.A. Rey ::: Children's Classics Post
I know I've mentioned it, but we are big H.A. Rey fans at our house. When N2 turned 3 in January, I ordered two more H.A. Rey books for her that I had never heard of before. I have enough faith in a Rey book that I ordered them sight unseen!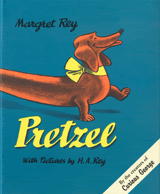 Pretzel is the story of a daschund. And unusual daschund. A very loooooooooong daschund. Actually, he was the longest daschund in the world! For the most part his great length was an asset to him - when he was one, he won a blue ribbon at a dog show and was admired by all the other dogs.

However. :)

The little dog across the street, Greta, did not like Pretzel. And Pretzel really liked Greta. Her thoughts on the matter: "I don't care for long dogs." The rest of the story details how Pretzel tries to impress Greta ... and of course, he wins her affections in the end, but I'll leave the "how" to your discovery. :)

As with all the H.A. Rey books, my girls have delighted in Pretzel. I don't think they have ever seen a real daschund, so they enjoy the appearance and antics of this unusual looking dog. The artwork is sweet and very colorful, as with all Rey books and I think it's worth a look if you can find it!
For more children's classics of the canine variety, head over to Five Minutes for Books!

Related reviews:
The Journey that Saved Curious George: The True Wartime Escape of Margret & H.A. Rey
Katy No-Pocket

Other Children's Classic Reviews:
A.A. Milne
Beatrix Potter (specifically, the Tale of Jemima Puddleduck)
Make Way for Ducklings
The Little House